ASEAN Establishes Competition Enforcers' Network, Regional Cooperation Framework, and Virtual Research Centre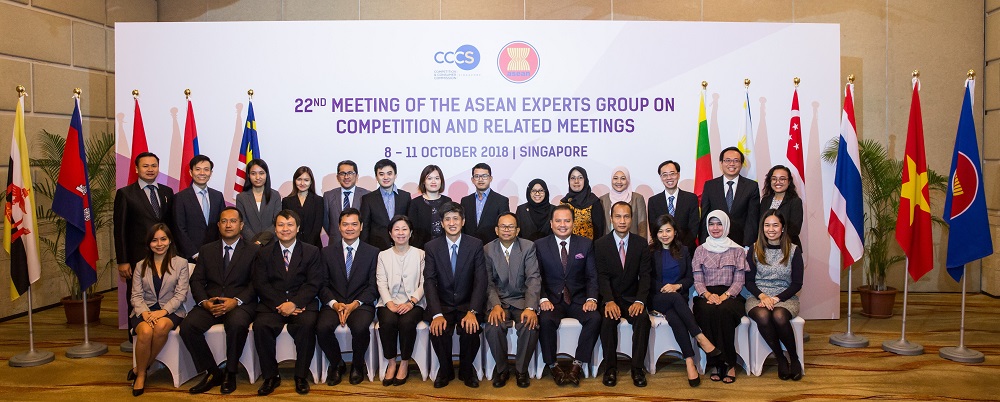 The ASEAN Experts Group on Competition ("AEGC") has established the ASEAN Competition Enforcers' Network ("ACEN") to facilitate cooperation on competition cases in the region and to serve as a platform to handle cross-border cases. The first Meeting of the ACEN was held on 9 October 2018 on the sidelines of the 22nd AEGC Meeting, which was hosted by the Competition and Consumer Commission of Singapore ("CCCS") from 8 to 10 October 2018.
Enforcement cooperation is increasingly important as cross-border issues become more common. It is timely for competition authorities in the region to come together to facilitate the exchange of information to better deal with such issues. The aims of the ACEN are to enable mutual understanding of each other's enforcement goals and objectives and to encourage information sharing between ASEAN competition authorities. The ACEN will also look into facilitating cooperation on mergers and acquisitions with a cross-border dimension. Competition enforcement in ASEAN has also been further strengthened with the formation of the Lao Competition Commission and Myanmar Competition Commission.
Recognising the need to catalyze research on competition issues in ASEAN and East Asia, the AEGC launched the Virtual ASEAN Competition Research Centre ("Virtual Centre"). The Virtual Centre hosts a repository of research articles which are useful reference for researchers and competition authorities examining competition issues in the region.
The Virtual Centre also includes profiles of researchers / academics with an interest on competition policy and law in the region, as well as a section aimed at promoting research collaboration on competition in ASEAN. The Virtual Centre can be accessed at https://asean-competition.org/research/.
As current Chair of the AEGC, CCCS also led other initiatives to strengthen the enforcement of competition policy and law in ASEAN, increase the awareness of competition policy and law in the region, and create a level playing field for companies operating in the region.
For further details, please contact:
Competition, Consumer Protection, and IPR Division
Email: ccpid@asean.org
Other Initiatives Launched under CCCS's Chairmanship
ASEAN Regional Cooperation Framework - A Regional Cooperation Framework ("RCF")[1] serves as a set of guidelines for ASEAN Member States ("AMS") to cooperate on competition cases.
ASEAN Competition Compliance Toolkit - The ASEAN Competition Compliance Toolkit[2] provides guidance to ASEAN Member States on promoting and facilitating business compliance with competition law in the region.
[1] Undertaken with the support of the AANZFTA Competition Law Implementation Programme (Phase II).
[2] The Toolkit was supported by the ASEAN-German Competition Policy and Law Phase II project. It may be accessed via https://asean-competition.org/read-publication-competition-compliance-toolkit-for-businesses-in-asean.