AANZFTA Announces Competition Law Essay Contest Winners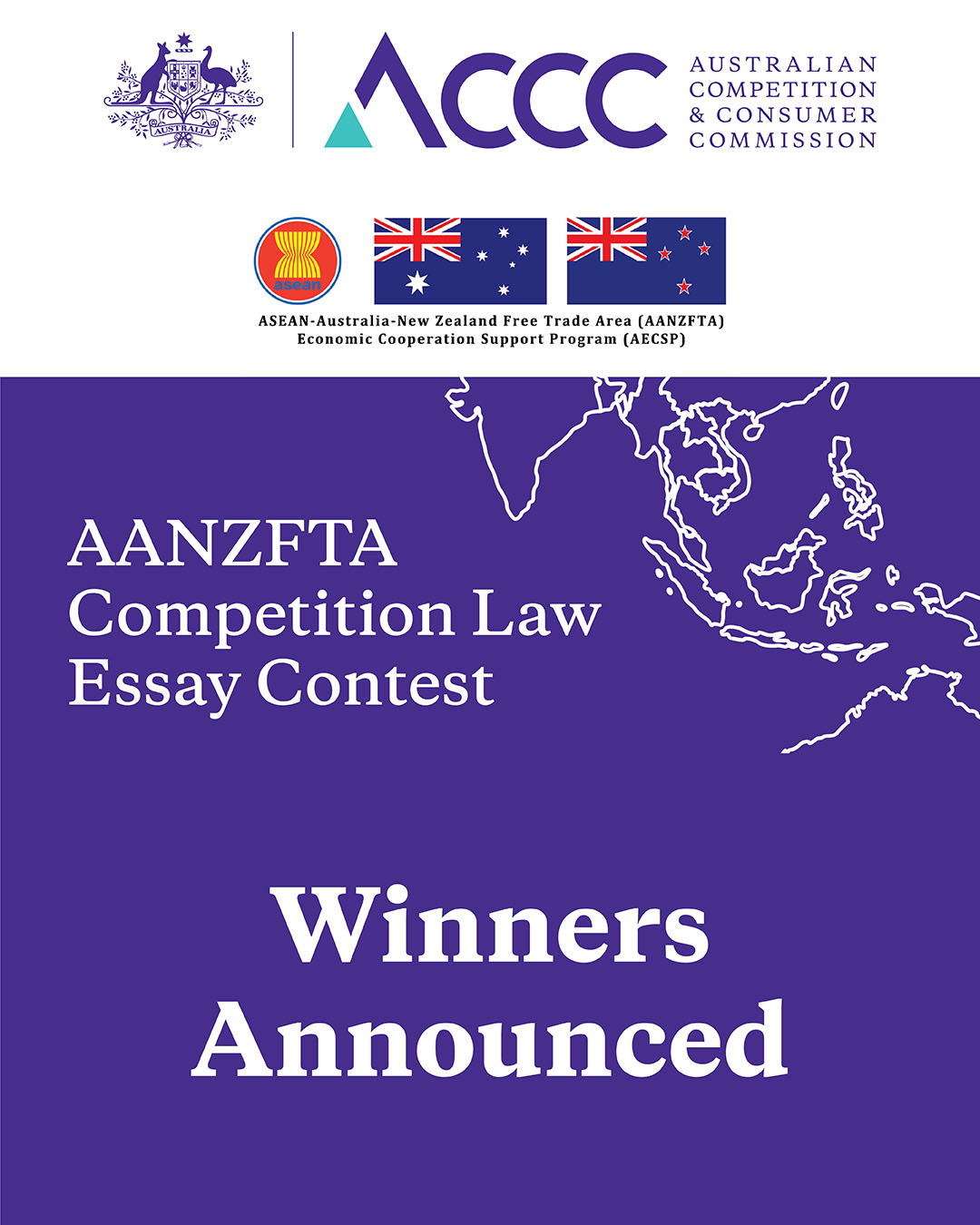 AANZFTA announces Competition Law Essay Contest winners
JAKARTA, 11 November 2021 - The ASEAN Experts Group on Competition (AEGC) and Australian Competition and Consumer Commission (ACCC) announced the winners of the AANZFTA Competition Law Essay Contest.
The contest was part of a multi-phase Competition Law Implementation Programme (CLIP) supported by the ASEAN-Australia-New Zealand Free Trade Area (AANZFTA) Economic Cooperation Support Programme (AECSP).
In his comments, AEGC Chair Deswin Nur noted that the launch of the first AANZFTA Essay Contest signifies ASEAN's interest in involving all stakeholders, including academicians, supporting competition development in the region, and building new talent for future leaders of competition policy in the region.
The contest aligns with deliverables under the ASEAN Competition Action Plan 2025, which was recently updated early this year and intended to foster a competition-aware ASEAN Region.
On his part, Dr Adam Triggs, Research Director of the Asian Bureau of Economic Research, Australian National University, highlighted that "the essays revealed the significant diversity of competition issues facing the ASEAN region and showed that in many areas, ASEAN countries are ahead of the world in developing their policy frameworks on these critical issues.''
''More than anything, the essays revealed the quality of the ideas, thinking, and research that is taking place within ASEAN's academic and policy institutions. There is no shortage of future leaders in competition law and policy among ASEAN countries,'' he added.
Winners Do Hoang Phuong Nhi and Le Ngoc Mai from Viet Nam also shared that "participation in the contest truly triggers our interest in and curiosity towards competition laws and also other government decisions, which motivates us to understand more about the making and implementation of such policies."
The essays were submitted under two categories and on various issues, including; Implications of the COVID-19 Pandemic on ASEAN Markets; Increasing Importance of Competition Policy for MSMEs in the Post-Pandemic Era; and Strengthening Cooperation in anticipation of future Crisis.
The winners are:
Open category:
Yogi Bratajaya – Safeguarding Competition in the ASEAN Digital Economy: Net Neutrality or Competition Law
Amirah Affendi – Hitch in ASEAN's Rapid Shift to a Digital Economy
Nancy Cai – The Wave of Big Tech Engulfing Subsea cables
Maria Fraulaine May L. Rapal& Abraham Alonzo Guiyab – Online Platforms in a Lockdown Economy – An ASEAN market Experience
Ali Salmande & Latifah Kusumawardani – Leniency program in Indonesian Competition Law Revision Bill: A lesson Learned from EU and Cooperation in AANZFTA Framework.
Undergraduate category:
Wachirawit Viriyaphisathan & Supanida Tangjitsatiankul – Implication of the COVID-19 pandemic on ASEAN market
Do Hoang Phuong Nhi & Le Ngoc Mai – Competition Law in Vietnam's Higher Education Sector: A SWOT Analysis
Abhiyan Dash Shrestha & Viraporn Suwannoi – Role of the competition law authority and Government towards MSMEs in the Post-Pandemic Era
Hasan Mohammad – Does Competition Law Have a Digital Achilles' Heel?
The winners will be presented in December at the 9th ASEAN Competition Conference under the theme 'Safeguarding competition: A Post-pandemic Response of ASEAN Competition Authorities.' Their papers will be made available at the Virtual ASEAN Competition Research Centre.
The ACCC delivered the contest in collaboration with the AEGC and the ASEAN Secretariat, including the AANZFTA Support Unit (ASU). In its fourth phase supported by the AECSP, CLIP focuses on supporting ASEAN competition agencies to build knowledge and practical expertise in the region by sharing resources, skills, and techniques for effective competition law implementation.
For more information on this project or the AECSP, please contact the AANZFTA Support Unit at aanzfta_inquiry@asean.org.