Training Workshops on "Competition Policy and Law in General"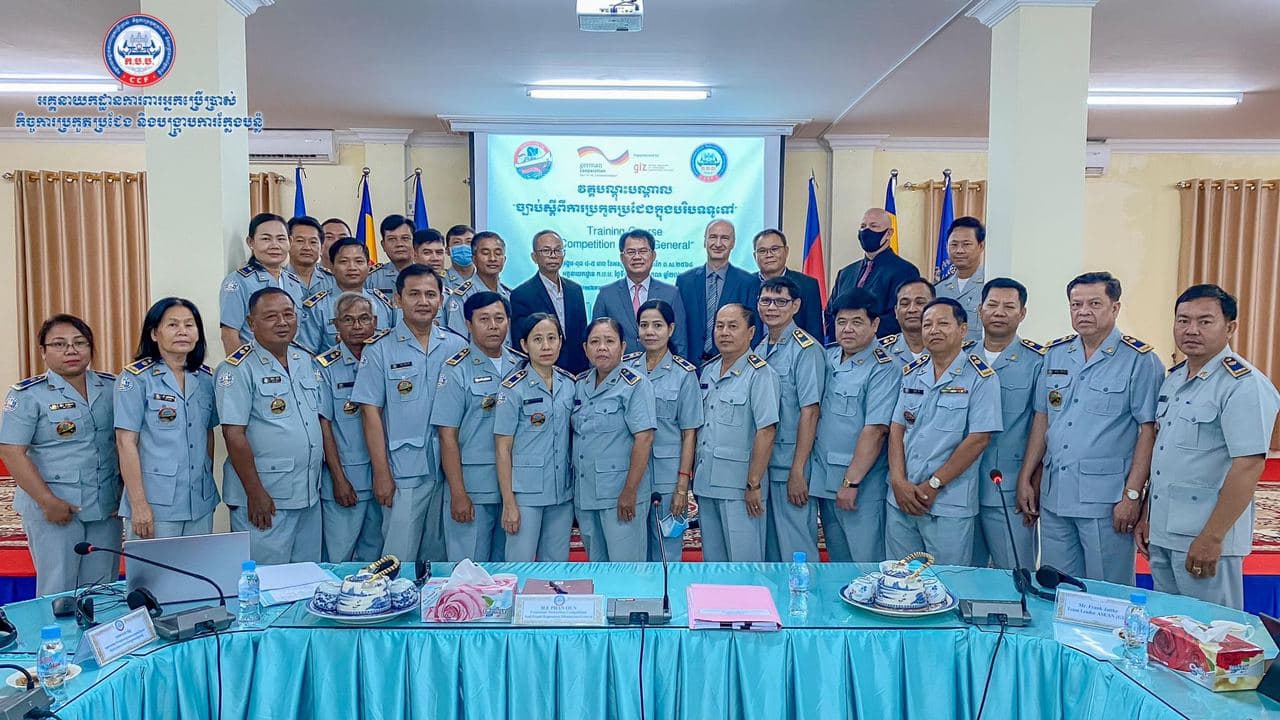 Phnom Penh, Cambodia – 07 October 2020
The Consumer Protection, Competition, and Fraud Repression Directorate-General (CCF) has organized a total of three training workshops on "Competition Law in General", as one of the capacity building efforts for CCF's officials in the Kingdom of Cambodia. The workshops were organized with an assistance and close cooperation with the Deutsche Gesellschaft für Internationale Zusammenarbeit (GIZ) GmbH under the "Promotion of Competitiveness within the Framework of the Initiative for ASEAN Integration", also known as the "COMPETE" project.
Each training workshop lasted for two days and was presided over by H.E. Phan Oun, Director-General of the CCF, Mr. Frank Jattke, Team Leader of ASEAN-GIZ, and Mr. Frank Tibitanzl, COMPETE Project Director of GIZ (via video conference), in which there were two speakers including Mr. David Fruitman, GIZ Consultant/Expert and Mr. Meng Songkheang, Director of the CCF's Competition Department, along with approximately 80 CCF officials (about 240 trainees in total). The workshop underlined topics such as the basic principles and fundamental concepts of Cambodia's Competition Law, anti-competitive agreements, abuse of dominance, and economic concentration. The three training workshops took place on 10-11 August, 9-10 September, and 6-7 October 2020, at the CCF's headquarters in Phnom Penh, Cambodia.
H.E. Phan Oun appreciated these capacity-building opportunities for the CCF's officials and emphasized the importance of these in strengthening both capacity and readiness among the in-house competition officials in performing their duties in the near future, as Cambodia's Competition Law is expected to be enacted early 2021.
Mr. Frank Jattke also expressed his appreciation towards the commitment of the participants and strongly believed that Competition Law of Cambodia will be a positive contribution to the development of Cambodia's economy, especially upon attracting more foreign direct investments through a fair playing field for businesses.
The COMPETE Project is designed for the CLMV countries in ASEAN to apply an investment-conducive and pro-competitive implementation of ASEAN agreements in the areas of "trade in services" and "competition policy".