Seminar on "Competition Policy and Law in Cambodia"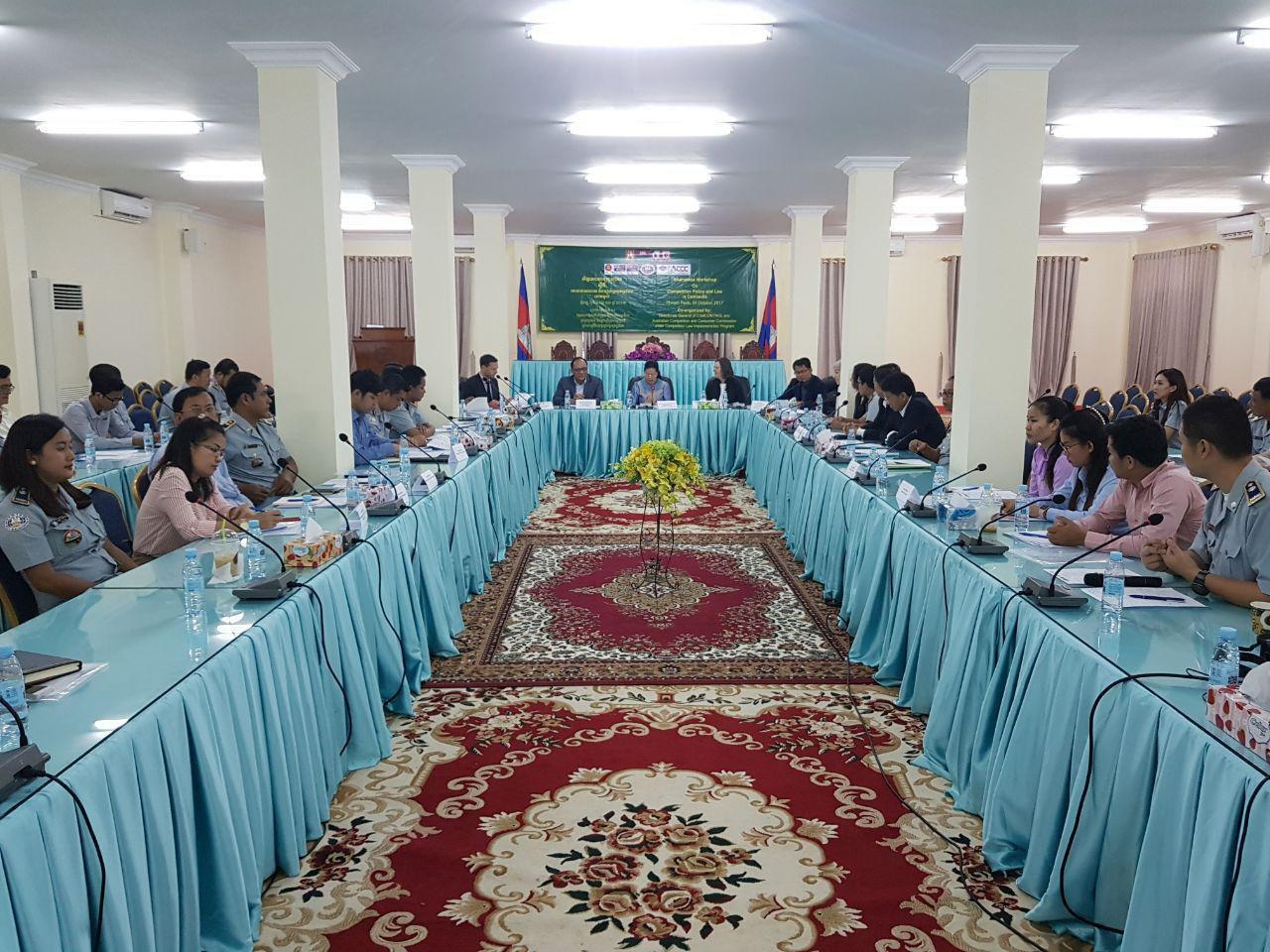 Phnom Penh, Cambodia – 24 October 2017, General Department of Camcontrol has organized a seminar on "Competition Policy and Law in Cambodia" under the Competition Law Implementation Program (CLIP) which was presided over by H.E. Tekreth Kamrong, Secretary of State, Mr. Kim Meassokeiha, Deputy Director General of Camcontrol, Mr. Phan Oun, Deputy Director General of Camcontrol and Ms. Rayne De Gruchy, Chief Operating Officer of the Australian Competition and Consumer Commission – ACCC, with 50 participants from ten Ministries.
H.E. Tekreth Kamrong, stated that this workshop is the 3rd National Workshop which was held in Cambodia under Competition Law Implementation Program (CLIP) in ASEAN, with the aim to gather the necessary inputs from various stakeholders on the draft Competition law. This initiative would ensure that the draft Competition law of Cambodia is correspondent with International and regional regulations, as well as the economic situation of Cambodia.
She added that the preparation of the Cambodian Competition Law was to respond to Cambodia's commitment to the WTO and to the commitment of all ASEAN leaders for the establishment of the ASEAN Economic Community (AEC). The process of drafting the Competition Law in Cambodia has been delayed comparing to other ASEAN member countries, who already adopted their national competition law respectively.
The reasons for this delay were due to (1) the replacement of competition expert assisting Cambodia in drafting competition laws, (2) the complexity of competition laws and (3) the purpose of ensuring the compliance of the competition law with other national regulations. The draft law is now being finalized for approval by the senior leaders of the Ministry of Commerce and it is expected to be sent to the Council of Ministers by the end of this year. The competition law will address issues related to any action that prevent, restrict and distort competition in the market, as well as control any business combinations that affect competition.
Ms. Rayne De Gruchy said that, under the ASEAN-Australia-New Zealand Free Trade Agreement, the Competition Law Implementation Program in ASEAN (CLIP) is designed to help all ASEAN member countries effectively prepare and implement their Competition Law. The final outcome of this program is to further strengthen the implementation of competition policies and laws in ASEAN as a whole.
Ms. Rayne believes that Cambodia has drafted its Competition Law with high preparation and vigilant because the Ministry of Commerce has held many consultations with relevant stakeholders as well as the participation of international competition expert in the process of drafting this law.
She added that the draft law has included essential elements for the implementation of the competition law in line with international context and the on-doing development of Cambodia's economy.
The workshop was successfully concluded on the 24th October 2017 with strong support from varous line ministries and relevant stakeholder.