CCBD commends RCED for the initiative to learn about Competition Order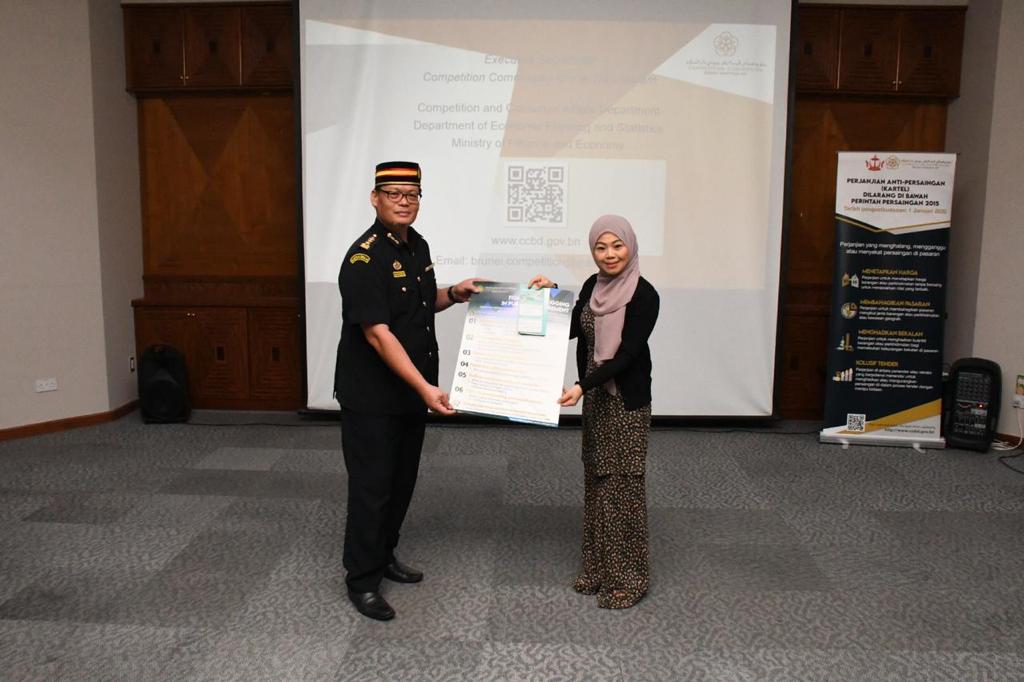 Parallel import is not an infringement of the Competition Order. The objective of the Competition Order is to encourage more players to enter the market, as competition among players encourages innovative business ideas and more choices of goods at more competitive pricing, which in turn benefits consumers. Import permits are regulated by respective sector regulators. Licensing requirements imposed by sector regulators are generally governing safety and standard regulations to ensure certain policies are adhered to in upholding public and national development interest. This was clarified by the Executive Secretariat of Competition Commission Brunei Darussalam (CCBD) during a dialogue session on the Competition Order initiated by the Royal Customs and Excise Department (RCED), Ministry of Finance and Economy.
Over more than 100 officials from the RCED attended the session as part of their capacity building programme to gain insights on government laws and regulations outside RCED. The session is also in line with the CCBD continuous effort to enhance understanding on competition law and its role in stimulating business productivity as well as enhancing consumer welfare through the prohibition of anti-competitive conducts by businesses.
The session began with insights on the scope of the Competition Order including the benefits of a competitive marketplace drawing examples from regional competition cases, and the three key prohibitions under the Order, namely Anti-Competitive Agreements, Abuse of Dominant Position, and Anti-Competitive Mergers. The Executive Secretariat of CCBD underscored that a fair competition encourages more businesses to enter the market; and increases the variety of goods and services offered by businesses at competitive prices in order to win consumers.
A focus was given on the Anti-Competitive Agreements prohibition which has come into force on 1 January 2020. The Anti-Competitive Agreements, also known as cartels, refer to agreements between two or more businesses to fix price; share market; limit supply; and collude tender. Price increase of goods that is decided independently by businesses without being involved in any anti-competitive agreements with competitors is not within the purview of the Competition Order.
There are different tools for detecting cartels. One of the most common tools utilized by competition agencies is the Leniency Programme. Leniency Programme allows for immunity to be given to businesses involved in a cartel in exchange to full disclosure and cooperation. The sources of cartel detection could also come from the findings of a market review and a complaint from consumer or business. More information about the Competition Order and leniency is available in the CCBD's website at www.ccbd.gov.bn.
The presentation on Competition Order was followed by an active discussion among officials deliberating on matters pertaining to business conducts observed in the Brunei context. The session concluded with a handover of a set of competition advocacy materials including posters and leaflets by Yang Mulia Heidi Farah Sia binti Abdul Rahman, the Acting Director of Competition and Consumer Affairs Department in the Department of Economic Planning and Statistics as the Executive Secretariat of CCBD to Yang Mulia Mohammad Mu'inuddin Chin bin Abdur Rahman, the Deputy Controller of Customs.
The Executive Secretariat of CCBD can be reached through email at brunei.competition@jpes.gov.bn or call 2233344 extension 230, 341 or 343 for general inquiries and request for briefings on the Competition Order.