ASEAN Works Together to Address Issue of Cartels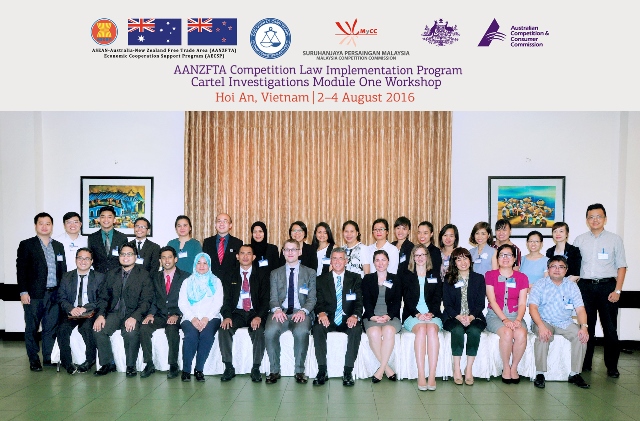 HOI AN, 9 August 2016 – Detecting and prosecuting cartels remain at the core of the agenda of competition agencies due to their potential to cause significant harm to markets. Anti-competitive agreements that are meant to fix prices, divide markets, restrict output and to fix competitive tenders are generally prohibited in competition law.
Competition officials from the Malaysian Competition Commission (MyCC) and the Viet Nam Competition Agency (VCA) took part in a workshop on cartel investigations on 2-4 August in Hoi An, Vietnam.
Participants worked together to explore approaches to investigating a cartel, beginning with detection, pre-investigation assessment, investigation planning and resourcing, strategies to progress an investigation and preparing written recommendations. Through practical exercises and scenario-based activities, participants studied the different investigative processes applied in each jurisdiction and considered options to address the challenges that may hamper effective cartel investigation.
Both Malaysia and Viet Nam are undertaking several reforms in their jurisdiction to enhance the capacity and power of their agencies to prosecute cartels.
This was the first activity in a series of capacity building workshops aimed at strengthening investigation skills in ASEAN competition agencies delivered by the Australian Competition and Consumer Commission under the ASEAN-Australia-New Zealand Free Trade Area (AANZFTA) Competition Law Implementation Program (CLIP).