ASEAN – UK Workshop on Competition in the Digital Markets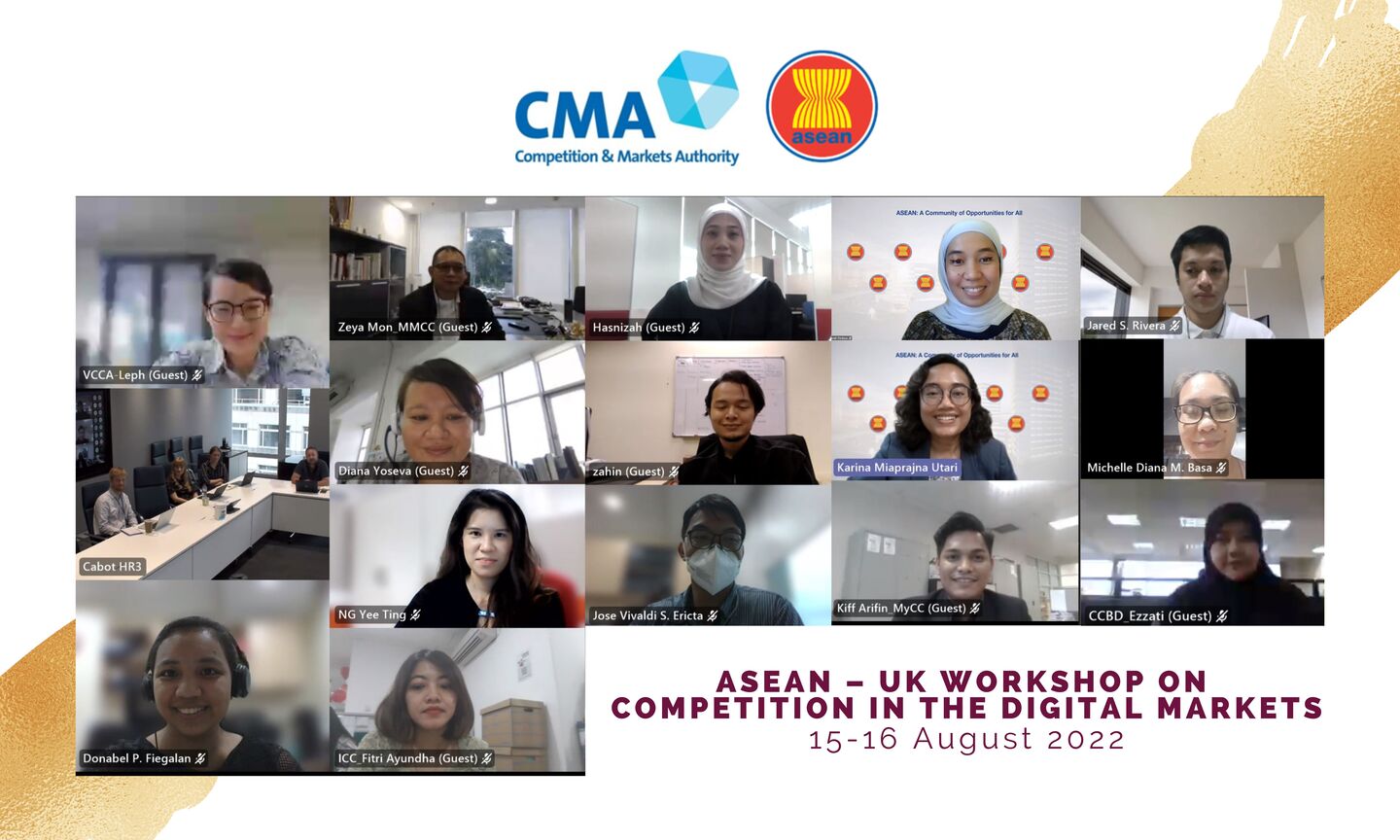 JAKARTA, 16 August 2022 – Upon formalising its status as ASEAN's dialogue partner in August 2021, the ASEAN Experts Group on Competition (AEGC) and the United Kingdom Competition and Markets Authority (CMA) has further strengthened its cooperation by conducting its first Workshop on Competition in the Digital Markets virtually on 15-16 August 2022. A group of 60 competition enforcers have gathered to discuss the digital market units within the various authorities, how to equip investigators with the skills to handle competition cases within the digital economy, and relevant competition cases and market studies conducted.
Digitalisation has reshaped competition in traditional markets and has led to the creation of many new ways of doing business. This has created challenges for competition law enforcers and has created an ongoing debate whether existing competition tools are adequate.
It is therefore, that more and more governments are introducing legislative changes to address competition concerns in the digital markets, and setting-up Digital Market Units to look into competition law issues in the digital markets or to implement pro-competitive interventions on a case-by-case basis.
At the regional level, ASEAN is stepping up efforts to look into competition law issues in digital markets by way of recently developing the ASEAN Investigation Manual on Competition Policy and Law for the Digital Economy – drawing regional and international experiences including from the UK. In addition, the digital economy is identified as a priority area under the ASEAN Capacity Building Roadmap 2021-2025.
The CMA's vast experiences in investigating competition cases in the digital economy and the establishment of the Digital Markets Unit is a valuable lesson for ASEAN. This workshop has benefitted the ASEAN Member States by understanding the means in which competition authorities will need to respond institutionally and strategically to investigate anti-competitive conducts in the digital markets.