AANZFTA Competition Law Implementation Programme Continues Supporting Cambodia's New Competition Law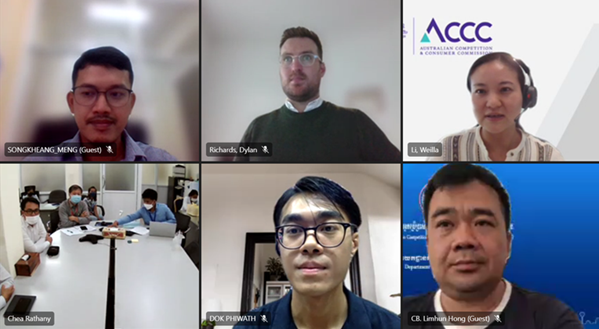 Canberra, 3 May 2022 – As part of the AANZFTA Competition Law Implementation Programme (CLIP) Phase IV, officials from the Australian Competition and Consumer Commission (ACCC) and Cambodian Consumer Protection Competition and Fraud Repression Directorate-General (CCF) have been meeting virtually since March 2022 to discuss issues relating to the implementation of Cambodia's competition law.
For two months, ACCC experts have met virtually every week with Cambodian officials to provide practical advice to strengthen investigation and interview skills and build technical knowledge.
The programme also explored Cambodia's competition law with dedicated sessions on its substantive prohibitions, including anti-competitive agreements, abuse of dominance and anti-competitive business combinations. These sessions are hoped to contribute towards the development of guidelines which will complement the competition law.
The ACCC experts provided guidance based on their own experiences and integrated scenarios and exercises throughout the programme to examine some of the challenges encountered by competition authorities.
Mr Phiwath Dok, Chief of CCF's International Relations Bureau, praised the assistance, saying: 'Once again, we at the CCF are very grateful to ACCC colleagues for their full and active support under CLIP. These sessions have equipped us to examine different forms of business conduct to identify competition law issues and a deep understanding of foundational competition law concepts, competition case analysis, investigation and evidence gathering and, of course, the three pillars of the competition law.'
In addition, Mr Songkheang Meng, Director of CCF's Competition Department, said that. 'Having competent in-house competition officials is one of the significant elements contributing to an effective competition regime. The CLIP Expert Assistance occurs promptly as CCF officials work on a draft implementing rules (i.e., Prakas on Investigation Procedures and Prakas on Negotiated Settlement).'
'Essentially, the training sessions benefited the CCF officials in gaining substantial input to the draft implementing rules and enhanced their understanding of the investigation and interviewing skills, comparison of enforcement approaches between competition laws in Australia and Cambodia, and substantive prohibitions on Competition Law,' he added.
This was the latest activity explicitly designed for Cambodia and built on previous assistance delivered as part of CLIP Phase IV, deepening the relationship between the two authorities.
CLIP assists ASEAN competition agencies in building knowledge and practical expertise in the region by sharing resources, skills, and techniques for effective competition law implementation. With plans for CLIP Phase V underway, the ACCC is exploring ideas with Cambodia and the other ASEAN Member States on how to deliver the next phase of this vital work.
ACCC has been implementing CLIP since 2014 in collaboration with the ASEAN Secretariat, supported by the ASEAN-Australia-New Zealand Free Trade Area Economic Cooperation Support Programme (AECSP).
CONTACT:
For more information about CLIP, please contact the AANZFTA Support Unit at aanzfta_inquiry@asean.org or the AANZFTA CLIP Team at clip@accc.gov.au.