A Review of the ASEAN Competition Business Perception Index (ACBPI)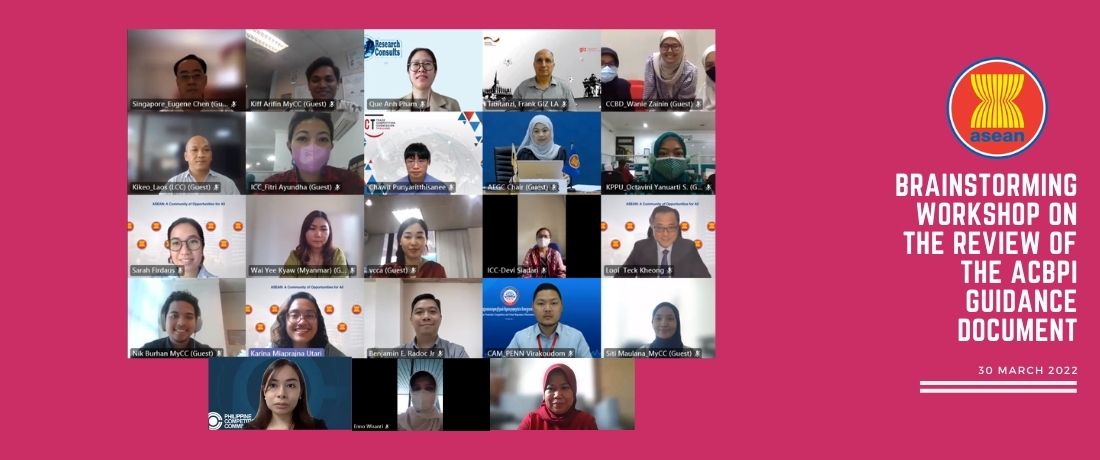 JAKARTA, 1 April 2022 – The ASEAN Experts Group on Competition (AEGC) held a Brainstorming Workshop to review the ASEAN Competition Business Perception Index (ACBPI) Guidance Document on 1 April 2022. The ACBPI Guidance Document was developed in 2018 to serve as reference to assess the perceptions of the business community concerning competition in ASEAN. Reflecting on the 1st ACBPI which was carried out in 2019, the AEGC deliberated on ways to improve the methodology and to synchronize the Regional Survey with national business perception surveys carried out by several ASEAN competition authorities. Furthermore, the updated methodology is expected to include indicators related to the digital economy to align with ASEAN's digital transformation agenda.
The updated ACBPI Guidance Document also seeks to simplify the questionnaire that will be used to collect data on business perception. Successful international best practices were also presented to better improve the ACBPI methodology. The revised Guidance Document will be used for the next ACBPI survey expected to be held in 2024.
The Review of the ACBPI Guidance Document is supported under the COMPETE project funded by the German Federal Ministry for Economic Cooperation and Development (BMZ). This initiative is in-line with Deliverable 4.4.2 of the ASEAN Competition Action Plan (ACAP) 2025.