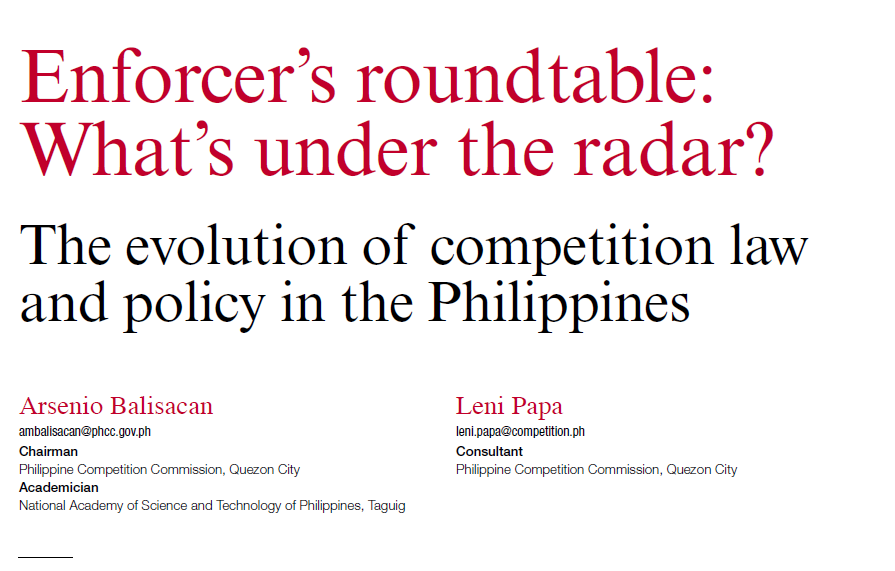 Enforcer's roundtable: What's under the radar? The evolution of competition law and policy in the Philippines
This article traces the origins and evolution of competition law and policy in the Philippines and how these impact the enforcement of the Philippine Competition Act (PCA) and the operations of the Philippine Competition Commission (PCC).
2-2020 | 2020
Abstract
The past quarter-century has seen rapid adoption of comprehensive competition law and policy regimes across jurisdictions in the world, particularly in developing countries. In East Asia, the Philippines is one of the recent adopters, joining other member states of the Association of Southeast Asian Nations (ASEAN) in enabling a comprehensive framework for the deployment of competition policy in support of the region's vision for economic integration.
This article traces the origins and evolution of competition law and policy in the Philippines and how these impact the enforcement of the Philippine Competition Act (PCA) and the operations of the Philippine Competition Commission (PCC). As in many developing countries, the development of the country's enforcement regime and competition culture has many challenges though these are not insurmountable.
The young competition agency has taken a pragmatic approach, building on experiences and best practices of other jurisdictions in its enforcement rules and practices, prioritizing enforcement actions to focus on the core principle of competition policy, mainstreaming competition policy in the government's national development agenda, and building institutional capacity for sustained effectiveness.