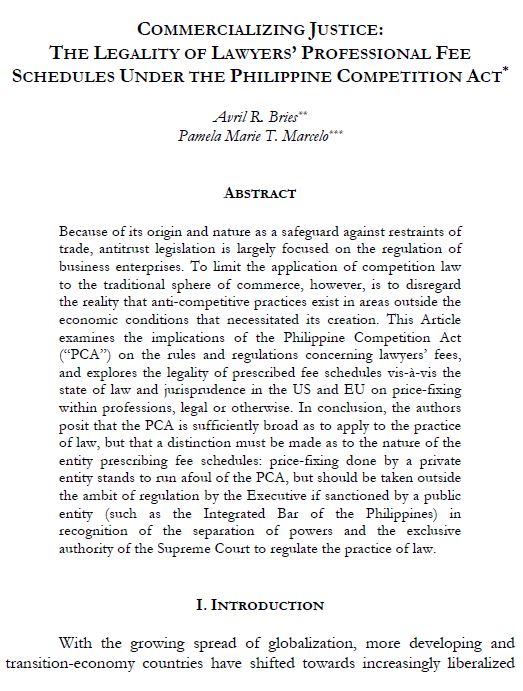 Commercializing Justice: The Legality Of Lawyers' Professional Fee Schedules Under The Philippine Competition Act
Abstract
Because of its origin and nature as a safeguard against restraints of trade, antitrust legislation is largely focused on the regulation of
business enterprises. To limit the application of competition law to the traditional sphere of commerce, however, is to disregard
the reality that anti-competitive practices exist in areas outside the economic conditions that necessitated its creation. This Article
examines the implications of the Philippine Competition Act ("PCA") on the rules and regulations concerning lawyers' fees,
and explores the legality of prescribed fee schedules vis-à-vis the state of law and jurisprudence in the US and EU on price-fixing
within professions, legal or otherwise. In conclusion, the authors posit that the PCA is sufficiently broad as to apply to the practice of law, but that a distinction must be made as to the nature of the entity prescribing fee schedules: price-fixing done by a private
entity stands to run afoul of the PCA, but should be taken outside the ambit of regulation by the Executive if sanctioned by a public
entity (such as the Integrated Bar of the Philippines) in recognition of the separation of powers and the exclusive authority of the Supreme Court to regulate the practice of law.